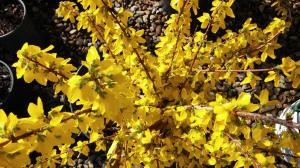 Ready or not Ohio, it is spring, and if you're not in the mood you better get there quick! 😉 The last week of April boasted Cleveland Select Pears beginning their bloom across the state. It is interesting to see the variations in bloom in regards to the microclimates. Within a city, a neighborhood or simply a private property all become carriers of microclimates.
The Forsythia joined the pears in a vibrant dance of what artists may consider authentic sunshine as the PJM Rhododendron decided their sterling purple cloak would be a generous contrast to the competing bloomers.
The Canadian Redbud, of course a local favorite, seemed to catch a break again this year covering their limbs in spring magnificence.
The first week of May delighted the senses with a spectacle among the Star Magnolia and Alexandrina Magnolia both splendid in their own right and some again continuing to bloom as we are caught amidst all of the vibrant colors.
Certain early spring Crabapples are blossoming and begging for pollinators to visit as well as dazzled eyes, & if you look close enough, you may catch a boxwood trying to sneak a flowering past you.
There is so much tackling the senses it feels a shame to let one drop slip by…….Spring seems to be a proper name, as we seem to spring from one bloom to the next….Spring on my friends!!