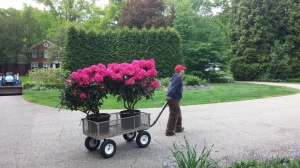 The last two weeks of May have been absolutely jaw dropping. We all become something reminiscent of a 'rubber necker' when we drive past a well-designed display of color. Has that happened to you? And then you scratched your head wondering what the combination was and how to duplicate it in your own garden?
Check out these combos for the last weeks of May into June
Nova Zembla Rhododendron with a 5-6 foot height and vibrant deep cherry pink blooms paired with Maximum Roseum Rhododendron reaching the same heights and offering warm lavender blossoms. The combination of these two with a dusting of snow on the mountain underneath is a drive by hazard.
Zelkova trees with their pendulous white blossoms – these are the trees this past week you have noticed blooming profusely at the sides of the roadways and expressways nearly every direction you go. Covered in white drooping blossoms the bark is very creviced and mottled – much resembling a locust – in leaf as well. This being such a wild specimen I would pair it surrounded by a field of bright orange oriental poppies. Wildness at its best.
How about a Japanese Silk Lilac tree, blooming yet now, with large white clusters – yes as fragrant as the Lilac bush – paired with the Dbl Knockout Rose sporting a profusion of cherry red blossoms bordered by a lovely bright Key Lime Heuchera or chartreuse Guacamole Hosta.
The Karen Azaleas were blooming their hearts out the past couple of weeks and have just about finished for the season as the Catalpa, (Indian Cigar Tree), has just begun.
The Tulip Tree – Liriodendron – is in the midst of blossom itself as all the hungry Cardinals stand in wait of the bright red clusters of fruit to come – Liriodendron tulipifera – one of the favorite foods of the Cardinal.
Though nothing can pull a smile, a giggle, perhaps a guffaw, so much as to see a GIANT Allium up close and in person. Plant them in the fall to watch them bloom the end of May through the beginning of June.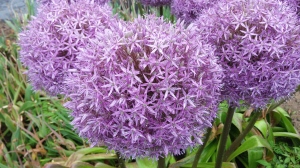 Also blooming now – Forever Pink Phlox, Weigela Wine and Roses in a pinkish purple, Purple Salvia, Japanese Iris purple and white and a plethora of bright orange barrel flowers all over the highways and bridges –
As the Irish proverb goes – The journey is the reward!